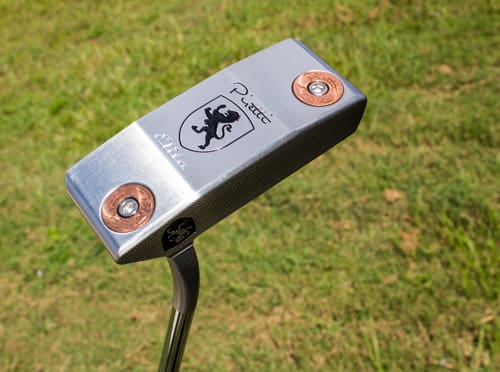 This Putter Took 2nd Place At the 2017 Safeway Open
Most golfer's initial reaction when picking up a Piretti Matera is "This is different…" That is until they start putting with it. Meet the Matera Elite.
It looks different, because it is different. A blend between a blade putter and a mallet putter, gives the Matera it's unique head shape. Its wider frame gives it better balance and a feeling of a half mallet.
Most mallet putters are face balanced, but Mike Johnson, Piretti Founder and craftsman, designed the Matera with a slight toe hang. This makes the putter feel more like a blade putter. It's this unique feel that has lead many golfers have called it a confidence building putter.
Milled from a solid billet of 303 Stainless Steel the Matera Elite features adjustable weights allowing adjustments from 355g to 375g to maximize the golfers stroke.
The specific specs for the 2nd Place Finish at the 2017 Safeway Open are: Matera Elite putter, copper weights to make putter head 375g, 36″ length, Piretti Fat grip.
This week's finish marks the second top 10 PGA finish for the Matera Elite in as many months, and the 6th top 10 PGA finish this year for the Piretti Elite Series.